Bantu Arts is an African entertainment and production company based in Weybridge, Surrey. We work with fully costumed artists who are experienced in traditional African instruments and dance. We are passionate about performing and aim to give our customers a memorable experience. We have participated in many different concerts, festivals and events across the UK and given them that extra African flavour. We know how to turn a party into a celebration.
Bantu Arts has over 10 years' experience in performing arts, specializing in traditional African/Ugandan music and dance. If you are looking for an exclusive, bespoke African-themed entertainment for your event look no further.
We will oversee the needs of your project by booking and managing artists/stage acts, overseeing the  event program from inception to the final product, liaising with the key stakeholders to ensure the event is managed well, providing oversight for PR management as point of contact.
If you are looking for a true and authentic culinary experience then please contact us. We cater for all events regardless of size and our prices are very competitive.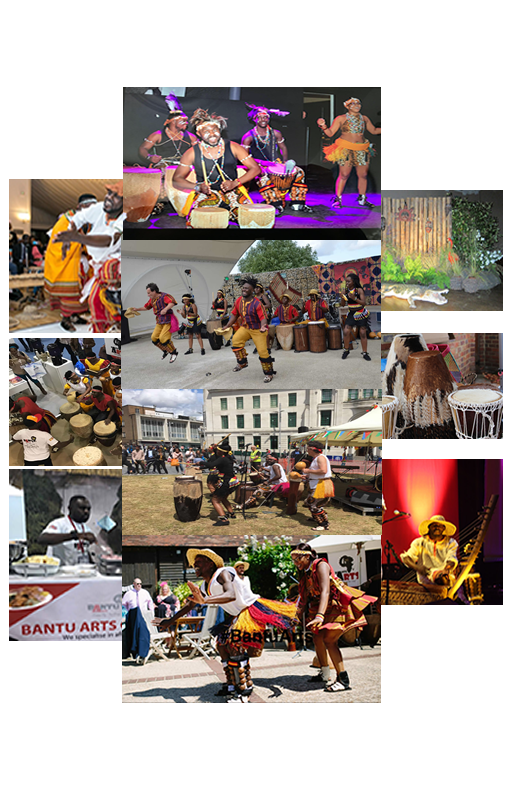 African-themed event are our specialty. We provide props and decorations that will transform your venue into an African safari with gorillas, monkeys, zebra and lions or a riverside village with fishing boats and nets
Realising that customer satisfaction is a key element to a successful business, Bantu Arts quality of service has always been high on our agenda.  With a strong focus on customer satisfaction, we aim to actively engage with you from the point of enquiry to completion.
Film/Theatre Productions:
We provide entertainment and colourful, unique costumes and beauty of African drums which allow us to support and be part of the studio productions, album launches, as extras and outdoor recordings anywhere
Clients